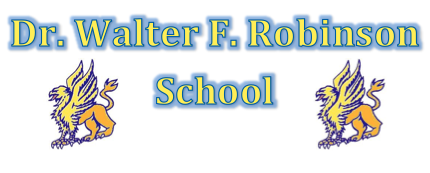 Robinson School consists in Pre-Kindergarten through Grade 8. The administrators work closely with their dedicated and professional staff, highly motivated students, and a very supportive Parents-Teachers Council
.
School Motto: "The Royals Believe, That's Why We Achieve"
School Colors: Royal Blue and Gold
School Nickname: Robinson Royals
---
Robinson School's mission is to provide equal educational opportunities for all students commensurate with their needs, abilities, and diverse cultural backgrounds. We promote the philosophy that a cooperative partnership exist between home and school. This teamwork fosters a climate in which good human relations can flourish and intellectual growth can occur.
The original School No.3 on old Center Street (about 48th Street between Broadway and Avenue C, known as the Pamrapo section) opened in the fall of 1871. It was completed at a cost of $17, 000. The seating capacity was 315. The principal was Ebenezer C. Earl.
In 1894 old No. 3 School in Pamrapo was condemned, having been cracked in the process of moving it from Center Street to 47th Street. Its pupils were taught in makeshift classrooms in public halls and a church nearby. A new No. 3 was completed on Avenue D between 49th and 50th Streets and was opened for use on April 28, 1897. It contained 16 rooms. The land cost $6,400 and the building $44,888. George A. Atwater was the first principal of the new No. 3 school. In 1936, the school was torn down. Washington School and the opening of Woodrow Wilson School eliminated the need for old No. 3 School in this area of town.
In 1910-1911, Bayonne High School moved into and imposing new building on 31st Street near the Boulevard. It contained the largest auditorium in the city at the time. In 1935-37, Bayonne constructed a modern high school at its present location on Avenue A. The building on 31st Street then became No. 3 School, a neighboring elementary school.
In 1977, No. 3 School was renamed Dr. Walter F. Robinson school in memory of one who was a local scholar. Dr. Robinson was appointed as a history teacher in 1926 in No. 3 School, which was then Senior High School. Following this first assignment, he became principal of Roosevelt School, principal of Bayonne High School, Dean of Bayonne Junior College, and, in 1955, Assistant Superintendent of Schools.
Known also as a historian, Dr. Robinson authored The Historical History of Modern Bayonne. We have his diploma from Horace Mann School hanging in our main corridor. We here at Robinson School are grateful to him for his love of history and gift of sharing his knowledge.
Sinclair, Gladys Mellor, Bayonne Old and New, New York City, New York, Marantha Publishers
Bayonne Centennial Historical Review 1861 - 1916