John M. Bailey Community School, No. 12
75 West 10th Street
Bayonne, New Jersey
Albert McCormick, Jr. - Principal amccormick@bboed.org
Lyndia Santiago-Hayes - Assistant Principal lhayes@bboed.org
Mark Steinman - Coordinator, BD Program msteinman@bboed.org
Michele Cotter - Secretary mcotter@bboed.org
Elizabeth Loffio - Nurse eloffio@bboed.org
Dana Skrocki - Guidance Counselor/Anti-Bullying Specialist dskrocki@bboed.org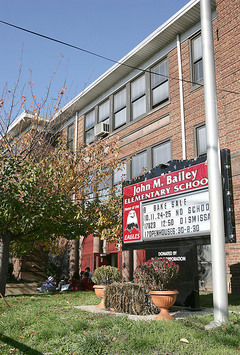 ---
John M. Bailey Community School Vision
In their pursuit of wisdom, the students of John M Bailey School will discover something of value in
themselve
s and return it to society. Our school will provide a safe, functional environment conducive to learning and development of self-esteem. Faculty and staff will strive to achieve their maximum potential, model lifelong learning and positive values, and display understanding, empathy, and respect for all members of the school community.
We believe that education is the foundation of life successes. Therefore, our mission is to encourage, guide and support all students to reach their highest potential and become lifelong learners contributing to society. In order to accomplish this mission our school will work
cooperatively with students, parents, and the community.
Members of the John M Bailey School community should hold the following values in common:
Education is the foundation for life success

To provide a safe environment conducive to learning

All children can learn

Excellence for each individual can be achieved through high expectations

Learning is a continuous process

Education is a combined effort - parents, students, teachers, and community working together

---
Congratulations to Teacher of the Year for 2016-2017