World Language Week March 6-10, 2017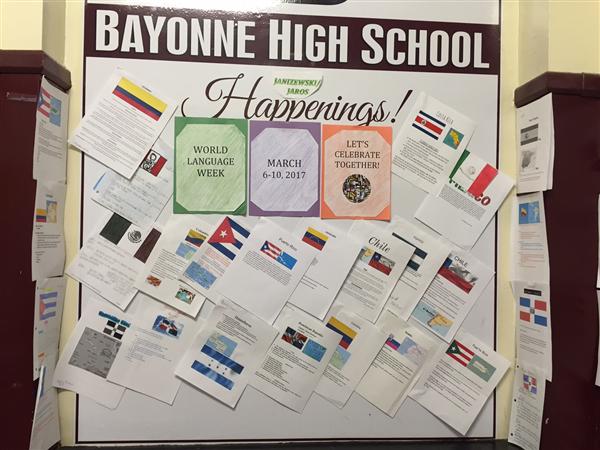 CONGRATULATIONS TO THE WINNERS OF THE WILLIAM PATERSON UNIVERSITY POETRY CONTEST, HELD ON MAY 18, 2017.

ADRIAN KARWOSKI, 1ST PLACE INTERMEDIATE ITALIAN

EMILY GIRGIS, 3RD PLACE ADVANCED LATIN

September 15th through October 15th is Hispanic Heritage Month. The students in Mrs. Janiszewski's Spanish classes created a bulletin board to showcase the many contributions of Hispanic Americans.

Latin Club has published its inaugural publication of the Hermes Herald.

Congratulations to Emily Girgis who won 1st place in Latin at the William Paterson Poetry Contest on May 19, 2016

Congratulations to ALL the participants who attended the William Paterson Poetry Contest

Congratulations to the following students on their finishes at the New Jersey Junior Classical League regional certamen:

Latin I – 3rd place: Nicholas Gale, Jeremy Marion, Joshua Oconer, and Moeez Shahid

Upper Latin – 2nd place: Juan Cacho, Emily Girgis, Ryan Granato, and Anish Patel

Latin II – 1st place: Edward Czudak, Cisco Espinosa, Timothy Kim, Vincent Lam, Christopher Maharaj, Kion Namjou, and Pritesh Patel

The Latin II team will be competing for the state title on April 23.